Times
Please check in with your driver guide at Bus Stand ZE, Waterloo Place 15 minutes before departure
Prices & Booking Terms
Discount*
£259
per person
*Students, over 60s & children 5-17
Included
Luggage allowance of up to 15 kg (33 lbs)
Free cancellation/rebooking up to 8 days before departure
Transport in a luxury Mercedes Wee Red Bus
Fully guided services of a Heart of Scotland tour leader
Not Included
Entry fees to attractions
Meals and refreshments
Accommodation (see below)
Tour Highlights
Average group size of around 12
Eilean Donan Castle
Isle of Skye full day tour
Lots of photo stops on the magical Isle of Skye
Quiraing mountain pass
Short walks on Skye
Loch Ness
Both Scotland's National Parks
Glen Coe
Picturesque town of Portree
Dates
2024 Season
27 March to 27 October 2024
TripAdvisor Traveler Rating
According to TripAdvisor travelers as of November 2023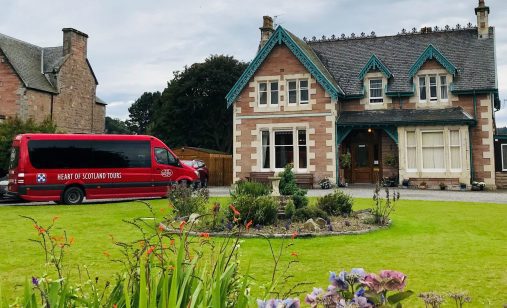 Your Accommodation
Tour price does not include the cost of accommodation. Accommodation is pre-booked by Heart of Scotland Tours (or by yourself) and you pay card or cash at checkout. Some Bed and Breakfasts (B&Bs) only accept cash. Choose from:
Hostel – £25 to £35 per person, per night
B&B single or single occupancy of a double room – £60 to £120 per person, per night
B&B en suite double or twin – £120 to £190 per room, per night (2 sharing)
B&B en suite triple or quad – £160 to £240 per room, per night (3 or 4 sharing)
Hotel – £160 to £240+ per room, per night (2 sharing)
Your accommodation options explained in more detail.
Itinerary
Journey through the Highlands to the magical and misty island of Skye, famous for its wild coastal scenery and the spectacular Cuillin mountain range. The itinerary includes stops at Eilean Donan Castle, Glen Coe, Loch Ness and a full day tour around Skye, with two nights in the picturesque harbour town of Portree.
Day 1
Our first stop is Dunkeld, a delightful Highland village with a history stretching back to the 8th century. Time for morning coffee and a visit to the ancient cathedral grounds, beautifully situated in mature woodlands beside the mighty River Tay.
We continue north through the Cairngorms National Park and alongside Loch Laggan before stopping for lunch.
Following the Great Glen we stop for photos of Ben Nevis, the UK's highest mountain. Travelling through spectacular mountain scenery, we stop at Loch Garry for a famous photo opportunity before continuing through stunning Glen Shiel to reach Eilean Donan Castle.
'An iconic image of Highland Scotland, Eilean Donan Castle has been used as the backdrop for countless famous movies'
Perhaps the most iconic image of Highland Scotland, the castle has been used as the backdrop for countless famous movies. It is perfectly situated on a small island, surrounded by water and fabulous scenery – a 'must-see' Scottish castle.
From here we drive across the Skye Bridge and under the shadow of the Cuillin Mountains to Portree, the island's tiny capital where you will be dropped off at your accommodation and based for two nights.
Day 2
Today is spent touring the Isle of Skye, a flexible itinerary at the discretion of your driver / guide * (see below).
We enjoy a half-day scenic drive along the dramatic Trotternish Ridge with its spectacular cliffs and rock formations. Stops can include Lealt Waterfall, Kilt Rock sea cliffs, the Old Man of Storr rock pinnacle and a walk at the Quiraing mountain pass. Another popular stop is the Fairy Glen, a delightful miniature Highland landscape and legendary home of the 'wee people'!
'We spend a full day exploring the spectacular and dramatic Isle of Skye in the Wee Red Bus'
The second half of the day explores the stunning southern part of the island which includes well-known sights and some hidden gems we've discovered over the years.
Nestled under the Cuillin mountains is beautiful Glen Brittle. Rugged scenery surrounds us and there are several fantastic options for this section of the tour, including a short walk in the iconic mountain landscape to the famous Fairy Pools.
Another popular excursion is the drive to Neist Point lighthouse for spectacular views to the Western Isles.
The 13th century home of the famous Clan McLeod, Dunvegan Castle offers guided tours, a useful wet-weather option because of Skye's famously changeable weather. It's not called the 'Misty Isle' for nothing!
* Please note depending on weather and traffic conditions the itinerary is flexible to maximise our time on Skye.
Day 3
After returning to the mainland we drive past the Five Sisters of Kintail, a high mountain ridge rising steeply from sea level. The five distinctly pointed summits are a well known landmark.
'Our next stop is a monster hunt at famous Loch Ness!'
Next stop is famous Loch Ness – Scotland's legendary lake and home to the elusive monster! At the picturesque village of Fort Augustus you will have time to take a stroll at Loch Ness and along the canal and lock system built by Thomas Telford in the early 1800s.
We continue through Fort William to perhaps the most famous of all Scotland's glens, Glen Coe. This narrow valley is where the bloody massacre of the MacDonalds took place in 1692, one of the most notorious acts in Scotland's long and violent history.
There'll be time for photos of the wild scenery before continuing to Tyndrum for a break. As we approach the Lowlands we drive past the Wallace Monument and Stirling Castle where you'll hear about Scotland's great patriots William Wallace and Robert the Bruce. Their names have resounded through British history for 700 years – a fitting conclusion to a wonderful trip!